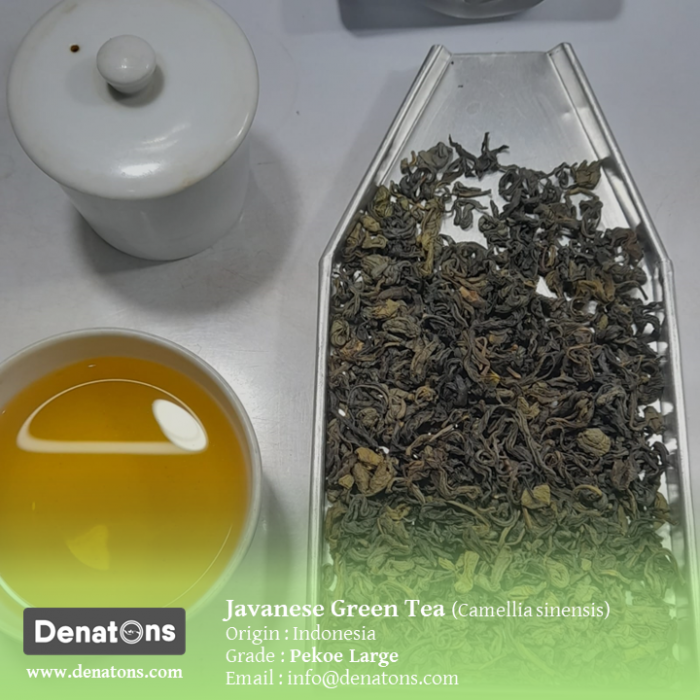 Java Green Tea - PT. Denatons Global Indonesia
SKU: te
Descripción
Java Green Tea
Our green tea comes directly from farmers and university plasma units in Indonesia. As part of our commitment to sustainable agriculture, we work with a tea processing unit in Central Java that is RA (Rainforest Alliance) certified. In the future, we will empower our fellow tea farmers in West Java to apply sustainable agricultural standards.
HS Code : 0902 10 / 0902 20
Product Name

Java Green Tea

Moisture

1.2%

Origin

Central Java & West Java

Available Grade

Jatilawang (Central Java) : Pekoe Large, Pekoe Super, SM, Fanning, Unsorted

Cisondari (West Java) : Gunpowder & Pekoe Super

Pb

Not Detected

TPC

1x102 colony/g

MPN Coliform

<2 MPN/g

Hg

Not Detected

Mold

1x101 colony/g

Cd

Not Detected

As

Not Detected

Packing

Bulk / As per customer preferences
El Centro de Promoción Comercial de Indonesia (ITPC, su siglo en ing.) en la Ciudad de México es una organización gubernamental sin fines de lucro y no tomamos ninguna ganancia/comisión/márgenes.